VoD - stream and download - Film catalogue
Our VoD-stream and download catalogue is being constantly extended by further titles and versions. The cover-flow shows some recommendations, in the filmlist you find our complete catalogue, which can be filtered alphabetically. All films have English subtitles or versions, if not marked otherwise. (Click "buy film" to check versions and file size.) Most films by Christoph Schlingensief, Roland Klick, Heinz Emigholz and other Filmgalerie 451-productions are exclusives on this website.
Edipo Re
Edipo Re
1967|100 min.
Director: Pier Paolo Pasolini
EDIPO RE – King Oedipus is a modern adaptation of the antic Sophocles tragedy, in which Oedipus unknowingly kills his father and marries his mother.German subtitled version only.For this film Filmgalerie 451 holds only the VoD-rights for German speaking territories. Full credits, text and picture details...
further information
Egomania - Insel ohne Hoffnung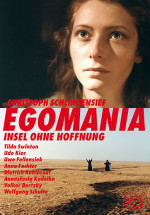 Egomania - Insel ohne Hoffnung
1986|84 min.
Director: Christoph Schlingensief
There's not going to be a different end of the world: relentless fights full of hate and love for incest and wealth. Udo Kier as the devil's aunt and Tilda Swinton as Brünhilde. A young couple trapped in eternal ice, bound to each other in tender love, threatened by everyone. A desolate island in the...
further information
Eleven Uncles
Eleven Uncles
Germany 2010|101 min.
Director: Herbert Fritsch
Preserving the nuts and bolts of the original story, Fritsch transfers it into a strange filmic twilight zone where a line's delivery is more revealing than its content, assembling a filmic language borrowing from the classical as well as from the grotesque, resulting in an intelligent kind of grand...
further information