VoD - stream and download - Film catalogue
Our VoD-stream and download catalogue is being constantly extended by further titles and versions. The cover-flow shows some recommendations, in the filmlist you find our complete catalogue, which can be filtered alphabetically. All films have English subtitles or versions, if not marked otherwise. (Click "buy film" to check versions and file size.) Most films by Christoph Schlingensief, Roland Klick, Heinz Emigholz and other Filmgalerie 451-productions are exclusives on this website.
Foreigners out! Schlingensief's...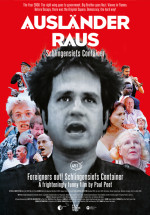 Foreigners out! Schlingensief's Container
2002|90 min.
Director: Paul Poet
A thrilling, insightful, funny chronicle and reflection of one of he biggest public pranks and acts of art terrorism ever committed. Austria 2000: Right after the FPÖ under Jörg Haider had become part of the government, the first time an extreme right wing party became state officials after WW2, infamous...
further information
Freakstars 3000
Freakstars 3000
Germany 2003|75 min.
Director: Christoph Schlingensief
What is normal? And who is retarded here anyway? How does a wheel chair work, and who decides who sits in it and who pushes it? Out of dozens of applicants awaiting their shot at fame and fortune, only the 7 very best will be left and form the band "Mutter Sucht Schrauben" [lit.: Mother Seeks Screws]...
further information
For Elise
For Elise
Germany 1982|2 min.
Director: Christoph Schlingensief
Christoph Schlingensief, aged 22, on the state of the nation.A trumpet player stands in the middle of the small town of Much barefoot in the snow and plays the German national anthem - more bad than good but with great conviction."The actions of the man, as the will to make a declaration of love, in...
further information
For Nothing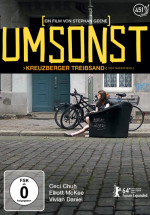 For Nothing
Germany 2014|95 min.
Director: Stephan Geene
Unannounced, Aziza is once again standing in her room in Berlin Kreuzberg, But her room is occupied. Her mother has rented it out. Zach lives there now, a twenty-something from New Zealand, who came to Germany on a one-way ticket.Full credits, text and picture details at [filmgalerie451.de.intern]http://www.filmgalerie451.de/en/filme/umsonst/...
further information