VoD - stream and download - Film catalogue
Our VoD-stream and download catalogue is being constantly extended by further titles and versions. The cover-flow shows some recommendations, in the filmlist you find our complete catalogue, which can be filtered alphabetically. All films have English subtitles or versions, if not marked otherwise. (Click "buy film" to check versions and file size.) Most films by Christoph Schlingensief, Roland Klick, Heinz Emigholz and other Filmgalerie 451-productions are exclusives on this website.
Paul Bowles Half Moon
Paul Bowles Half Moon
Germany 1995|93 min.
Director: Frieder Schlaich, Irene von Alberti
Three short stories by Paul Bowles, the American writer from Tangiers whose 1949 Masterpiece The Sheltering Sky was filmed by Bernardo Bertoculli in 1990, are the subject of a prizewinning film by Irene von Alberti and Frieder Schlaich from Germany.PAUL BOWLES - HALFMOON is a magical three-part descent...
further information
Paths in the night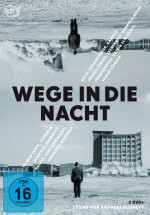 Paths in the night
Germany 1999|95 min.
Director: Andreas Kleinert
The opening film of Directors' Fortnight at the 1999 Cannes Film Festival, PATHS IN THE NIGHT is a dramatic work shot in haunting black and white. Set against the backdrop of post-unification Germany, the film explores the breakdown of relations in a decaying social structure. (Harvard Film Archive)Note:...
further information